The difference between an inflatable tent and MiicoFun bubble dome tent
Share
Issue Time

Oct 27,2020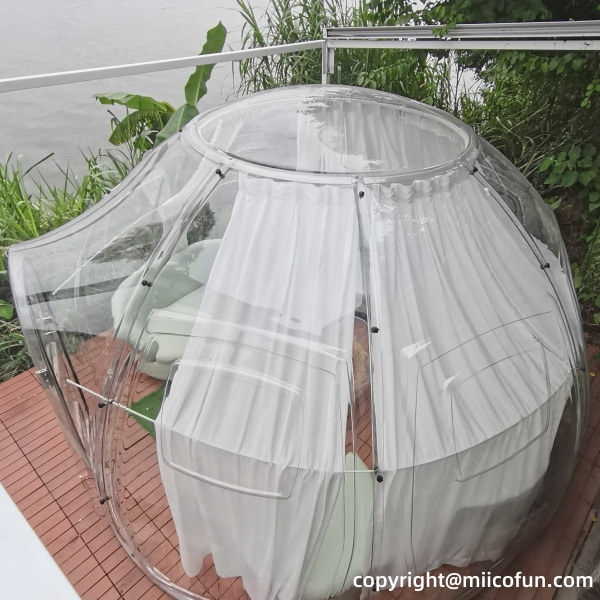 Do you want to spend a romantic time in the starry night sky? The transparent MiicoFun bubble dome may help you fulfill your wishes. You can lie in bed at night and see the charming starry sky, or spend an unforgettable dinner with your lover.
MiicoFun bubble dome is a 360-degree panoramic transparent dome, which can be used in scenic resort hotels, star hotels, homestay hotels, and private villas.
Nowadays, PVC inflatable bubble tents are very popular, but MiicoFun redefines bubble domes by using transparent polycarbonate panels. Now let's compare.
What is an inflatable bubble tent?
The inflatable bubble tent is made of PVC plastic and can be folded when not in use. Because of its small size, it can also be easily carried and stored. Use the air pump to inflate the bubble tent to the required size according to the instructions provided. Buyers can choose bubble tents of different sizes according to the number of people who may use it. It was developed for people to spend time outdoors enjoying green plants and stars in the sky. However, sometimes the time spent outdoors is not very pleasant because it may rain or be windy. Moreover, insects, pests and other animals will attack people outdoors without any protection. Therefore, a plastic bubble tent was designed to enable people to enjoy outdoor activities while still maintaining protection.
What is MiicoFun Transparent Bubble Dome?
MiicoFun Transparent Bubble Dome is a new type of transparent outdoor tent developed by Miico, the company is a leading manufacturer of polycarbonate and acrylic panels, MiicoFun is the brand name. The transparent bubble dome can overcome the limitations of bubble tents currently available on the market. It was developed after extensive research and is made of high-quality transparent solid polycarbonate sheet. Studies have shown that polycarbonate is almost indestructible and has high impact resistance and flame retardancy. Therefore, polycarbonate is widely used to manufacture various items that are important for impact resistance, such as bulletproof glass, riot shields, and current high-quality bubble dome tents.
To protect the tent from harmful ultraviolet (UV) rays in the sun, MiicoFun bubble dome tents are coated with special materials to protect the tent from ultraviolet radiation. This can ensure that the tent's service life exceeds ten years. If customers need privacy protection, they can easily install curtains, which can be adjusted according to the level of privacy required, and the walls can be made of opaque polycarbonate sheets. MiicoFun's transparent bubble dome tent can be connected into multiple rooms, each of which has a different purpose. For example, transparent holidays are used for 360-degree views, and opaque rooms are used for bedrooms and SPA rooms.
The durable MiicoFun transparent bubble dome tent is very suitable for various types of hotels and hostels, such as resorts, star hotels, and homestays. People can also use it in private villas if they want to sleep outdoors and enjoy the stars in the sky and the natural beauty outside. People can spend time in bubble tents, eat dinner, and then fall asleep after watching the sky.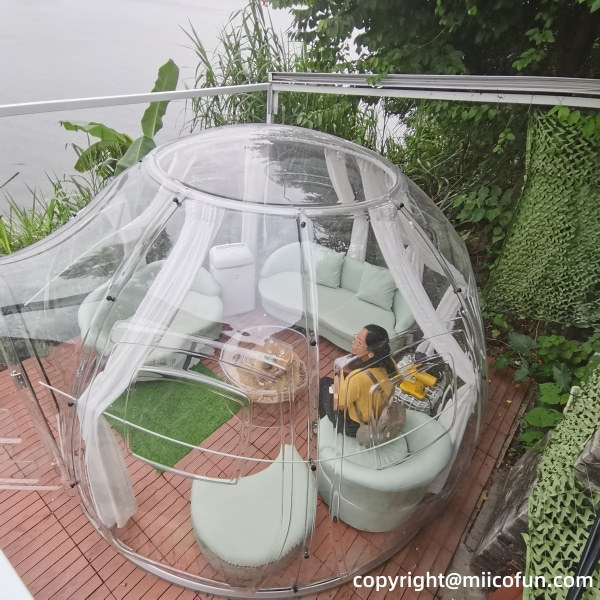 What is the difference between an inflatable bubble tent and a polycarbonate transparent bubble dome tent?
The main difference between traditional inflatable PVC bubble tents and MiicoFun dome tents made of transparent polycarbonate is the strength of the materials used. PVC is not a strong material, so it cannot be used in winter, especially in areas with snow and hail. In windy weather such as heavy rain and strong winds, PVC tents will not be able to protect the people in the tent. Polycarbonate dome tents are made of very strong materials and can withstand all weather conditions. PVC tents are not fireproof and may be damaged by the sun's ultraviolet rays. This will reduce the service life of the PVC tent, while the polycarbonate dome tent will not be damaged by ultraviolet rays due to the special coating. PVC tents will also require a separate air supply and additional air pumps to generate noise.
It is possible to install curtains in MiicoFun dome tents, but cannot install curtains in traditional PVC bubble tents, so users have no privacy.
Why choose MiicoFun transparent bubble dome tent?
The MiicoFun transparent bubble dome tent is made of polycarbonate, which has higher strength and higher impact resistance, which can protect you from animals while sleeping. It is 250 times stronger than glass and 20 times stronger than acrylic board.
The fire rating of polycarbonate board is V1/V0 UL94, which is very high.
Unlike PVC inflatable bubble tents, MiicoFun transparent bubble dome tents do not require an air pump and do not make any noise.
You can install curtains in the MiicoFun transparent bubble dome tent, and then open or close the curtains in any position.
The MiicoFun transparent bubble dome tent has a polycarbonate sheet with anti-ultraviolet coating, which can block 99.9% of ultraviolet rays and protect the bubble tent from yellowing for more than 10 years.
Polycarbonate sheet can work well between -40 degrees and 120 degrees. With air conditioning, you can use it in all seasons.
If you are the owner of the hotel, then MiicoFun transparent bubble dome will increase your business.
If you are the top manager of a chain hotel, then the MiicoFun transparent bubble dome tent will be an excellent product for developing new markets.
If you are the owner of a luxury restaurant, the MiicoFun transparent bubble dome tent will be a great idea to provide a pleasant dinner for your customers.